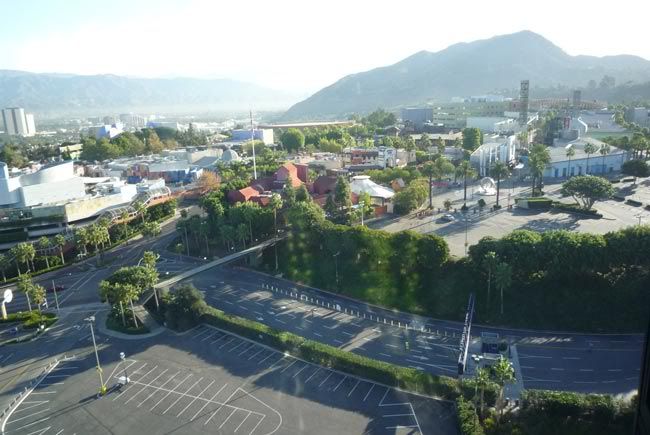 My knees hurt -
The night went nicely, despite some occasional disturbances from my fellow roomate. The photo is taken from our room, in the morning, with the entrance of the Park and the road below is the road for the Studio, where they do several TV series, like "Desesperate housewives", or back then "Quantum Leap". We went down for a coffee on the go at the Starbuck in the hotel. Then, it was time to go to Disney, alas not the Animation Studios, but the Games division. We arrived there by taxi. I was very happy to see a familiar face, Anita, she is the graphic consultant over there.
The meeting went smoothly for my part, then it was another meeting I have to be present but just as a consultant. So, my duties for the trip were kinda done. I was now waiting for the moment we would leave to go back at the hotel and mind our own business ( I happen to know a little comics book shop not too far away by walk from our hotel!).
We went for a lunch break, and as it was Halloween, a lot of people where in costumes (sorry, no photos!).
Then second round of meeting, again pretty light for me. I was in my little corner, doing some sketching on my Tablet PC to find some solutions on one little problem we needed to fix graphically.
Finally, around 4 PM we left by taxi to go back to our hotel. Steven and I were thinking about the things we could do ( I already had my ideas!). But then, our boss (even if I didn't mentioned him, he was present in all the meetings on Wednesday and today!) wanted to have a look at the commercial street next to the Park. You cannot really refuse to your boss that simple request. So Steven and I agreeded and the 3 of us went there. It is quite a small street after all, so I was thinking that it will pass and that I will have plenty of time to go and buy some comics.
But no! no! NO! Our boss wanted to sit somewhere and enjoy a little bit of chat about whatever comes to mind, and especially to huge size of my luggage! With every minute discussing, I was seeing the comics book shop flying away in the distance. I did try to mention my wish to go visit it, but it was not granted: " Why going there when you can buy it on the internet?... And my knees hurt!" was the answer. So, that was it... even up to the last minute it would be about work!
It was time for the dinner, a light one. Then we enjoyed a ride in a nice Lincoln limo to go back to the airport, trip during which I expressed some personal opinions on our company. At the airport, we registred our luggages and went to wait for the boarding right away... the Los Angeles airport is not that very interesting.
We were waiting when one steward checking my passport mentioned that the customs wanted to open my luggage for checking because there was something intriguing inside and they couldn't. I started to worry as the guy went to see what was the status of my big green and old luggage. He came back, saying that they succeeded to open it and after checking it was on its way to the plane. I was really getting worried!
But as I couldn't do anything, I decided I will go through a full inspection at the arrival in Hong Kong before leaving the airport, in case I needed to report something missing. The flight back went well, the only problem is that the whole Saturday day - and night - of Halloween was spent in the plane. We landed early on Sunday. I found my luggage. Nothing was missing but they broke the locks with the keys and left a small flyer in the luggage saying that they didn't take responsabilities for it! Ah, the irony!
I went home and started the day with my little family that I was happy to see again. I missed them so much!
So, as you see, it was a very tight and busy business trip!

Mes genoux me font mal-
La nuit se passa bien malgré d'occasionnels dérangements sonores de la part de mon camarade de chambrée. La photo du haut a été prise depuis notre chambre, avec vue sur l'entré du Parc Universal Studios. La route juste en-dessous est celle des studios de tournages pour les séries TV comme les " Desesperate Housewives" ou encore il y a de cela quelques années " Code Quantum". On a pris un café sur le pouce au Starbucks de l'hotel. Il était temps de partir pour Disney. Malheureusement pas les studios d'animation, mais la division des jeux. Nous y sommes allés en taxi. J'étais très content de revoir un visage familier, celui d'Anita, la consultante graphique de la division avec qui je collabore occasionnellement depuis mon temps sur "Ratatouille".
La réunion se passa relativement bien pour ma part, elle fût suivi d'une seconde réunion auquel je n'avait qu'une participation en teant que consultant. En fait, j'avais quasiment fini ce que je devais faire pour le voyage. J'attendais maintenant avec patience le moment où nous retournerions à l'hotel et pourrions enfin nous relaxer un peu et profiter pour faire quelques emplettes ( Je connais un petit magasin de BDs américaines pas trop loin de l'hotel à pied!).
Nous nous sommes arrêtés pour la pause déjeuner, et comme c'était Halloween, de nombreuses personnes étaient déguisées! (Désolé pas de photos!).
Tout ça suivi d'une autre réunion, encore une fois plutôt légère pour moi. J'étais dans mon coin, à faire des esquisses pour trouver une solution à un petit problème graphique pour le projet.
Finalement, nous sommes partis vers 16 h. Steven et moi pensions à ce que nous pourrions faire pour passer le temps, enattendant de prendre l'avion très tard dans la soiré (Départ à 1h du mat'!). J'avais déjà ma petite idée! Mai notre boss ne l'endendit pas de cette oreille ( même si je ne l'ai pas mentionné, il était dans toutes les réunions deMercredi et d'aujourd'hui!)...il voulait jeter un coup d'oeil à la petite rue marchande juste à côté de l'hotel et du Parc. Vous pouvez pas refuser une requête aussi simple. Donc Steven et moi avons accepté. C'était une petite rue après tout, et il n'y avait pas trop de trucs intéressants. Je pensais que ça passerait vite et qu'ensuite nous pourrions vaquer à nos occupations... comme aller au magasin de comics...
Mais nooooooooooooooon ! Mon patron décida de s'asseoir à une table et de parler de tout et de rien, et surtout de la taille de ma valise! Avec chaque minute de discussion, je voyais s'envoler tout espoir de pouvoir visiter le magasin. J'ai bien essayé de mentionner le fait que je voulais aller faire quelques emplettes, mais malheureusement, je ne reçut en en guise de réponse qu'une: " Pourquoi se déplacer alors qu'on peut tout acheter sur internet?... Et mes genoux me font mal!" Donc, il en était ainsi décidé: jusqu'à la dernière minute, ce ne serait que pour le boulot! ARGH !
Le temps du repas du soir arriva. Je décidait de manger léger. Pour aller jusqu'à l'aéroport, le boss loua les services d'une limousine Lincoln. Pendant le voyage, j'en ai profité pour placer quelques opinnions personnelles sur le fonctionnement de notre division. Je me fais absolument aucune illusion: c'était juste pour passer le temps! A l'aéroport, nous avons enregistré nos bagages et nous nous sommes rendus immédiatement au hall d'attente pour l'embarquement... l'aéroport de Los Angeles n'est pas franchement très intéressant!
Quand un des steward prit mon passeport pour la vérification de mes documents de voyage, il me fit remarquer que les douanes voulaient ouvrir mon bagage pour inspection et qu'ils avaient des problès avec les serrures vérouillés. Ceux qui me connaissent savent que je suis relativement nerveux en voyage, et rien de tel pour m'inquiéter. Je commençais donc à me faire du souci pour ma grosse et vieille valise verte. Il revint en me signalant que ma valise était en route pour l'avion et que les douanes avaient "atteint leur objectif!" Une inquiétude encore plus grande s'empara de moi!
Mais comme je ne pouvais rien y changer, je décidais alors dene pas m'en inquiéter plus pendant le trajet et de faire une fouille minutieuse é mon arrivée à l'aéroport de Hong Kong, avant d'en partir, afin de pouvoir déposer une plainte en cas d'objets manquants. Le vol se passa bien. La seule chose un peu triste s'est qu'il couvrit tout le samedi ( jour et nuit ) qui était le jour d'Halloween. On a attérrit très tôt le dimanche matin. J'ai trouvé ma valise. Rien ne manquait, il y avait même un peu quelque chose en plus: un prospectus m'informant que les douanes américaines se dégageaient de toute responsabilité en cas de destruction des serrures pour l'inspection, ce qu'elles avaient fait! Le comble!
Je suis rentré à la maison et j'ai commené la journée avec ma petite famille qui m'avait beaucoup manqué pendant ces quelques jours qui me parurent si longs!
Donc vous voyez, un voyage d'affaires, c'est crevant! C'est vraiment pas de tout repos!