...
of 2009
, of course! I am not going to stop this blog. It was an interesting year for me. A lot of things have happened in 2009, bad and good. For this blog only, I have posted double of the previous year, something I had planned to do. I have to agree that a lot of times it was not stuff by myself, but some things I gather around that I liked and wanted to show to you all. Anyway, for 2010, I plan to NOT post as often, but with more content from me, so, expect more graphic stuff. And to finish 2009 with drawings, below are some few sketches I made during my Christmas trip to Thailand.
Happy New Year 2010 to you all. I wish you the very best.

... de 2009
, bien sûr! Je ne vais pas arrêter ce blog. C'était une année intéressante pour moi. Beaucoup de choses me sont arrivées en 2009, bonnes ou mauvaises. Juste pour ce blog, j'ai posté le double de billets par rapport à l'année précédente, une décision prise au tout début de l'année. Je dois admettre que beaucoup de ces billets sont des vidéos, ou autre contenu dont je ne suis pas l'auteur, mais des choses portées à ma connaissance, que j'ai apprécié et que je voulais partager avec vous. Mais passons. Pour 2010, je prévois de poster MOINS, mais avec plus de choses de ma part, donc en fait plus de p'tits dessins de ma part. Et pour finir 2009 en images, voici ci-dessous quelques croquis que j'ai fait lors de mon récent voyage à Phuket en Thaïlande pendant Noël.
Et tous mes Meilleurs Voeux à tous pour la Nouvelle Année 2010 !Image 01:
The foot massage lady. She was torturing my feet while I was doing the sketch / La masseuse de pieds. Elle me torturait les pieds pendant que je dessinais.
Image 02:
by the swimming pool at the Hotel Mercure / A côté de la piscine de l'hotel Mercure.
Image 03:
Under the shade on a remote island nearby / A l'ombre sur une île voisine.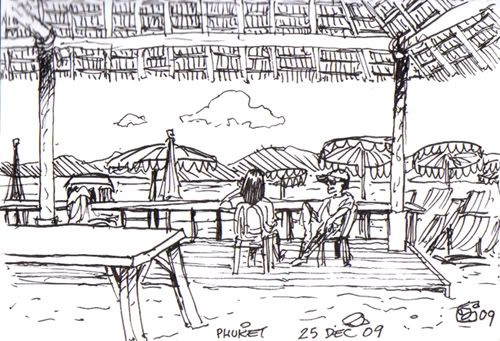 Image 04:
On the opposite side of the island, people feeding some friendly fishes with bread / De l'autre côté de l'île, des gens qui donnent du pain à manger aux poissons qui n'ont pas peur.
Image 05:
On the way to the James Bond Island ( from " The man with the Golden Gun " 1974) / En route pour l'île de James Bond ( dans " L'homme au pistolet d'or" 1974 ).