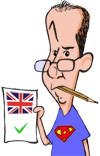 There
is something who really bugs me right now: Pixar has decided for the time being to only sell its latest Movie Soundtrack "UP" in digital format. That's right: no physical copy of a CD in my little hands. So, if I want it, I have to download it online. And I don't like that ! But I want the music ! ARGH! If you are interested you can download it
here
!
On another music topic, big Thanks to Jean-Phillippe. I haven't seen the movie "Monsters VS Aliens", but he did and mentioned to me that I may like the music. Well, I have to track down the CD ... only one copy in Hong Kong, can you believe that? ... but I finally got it and Yes, I like it. Very seldom when I "blind buy" things.So, Big Thank You.
Là
maintenant, il y a un truc qui me dérange à un haut niveau: la musique du nouveau Pixar "Là-haut" n'est disponible qu'en téléchargement électronique. Il n'y a pas de CD, physiquement parlant. Donc si je veux la musique, il faut que je télécharge et ... Raaaaaah! J'aime pas ça! Enfin, si ça vous intéresse, vous pouvez aller
là!
Et dans un registre similaire: un grand Merci à Jean-Phillippe. Je n'ai pas vu le film "Monstres contre Aliens", mais il a eu cette chance et il m'a dit que j'apprécierai sûrement la musique. Bon, j'ai dû traquer la seule copie disponible dans tout Hong Kong ( sérieusement, vous pouvez croire que c'est possible? Parceque ça l'est!). Mais bon, je l'ai eu. Et OUI, j'aime beaucoup la musique. Alors un grand MERCI.