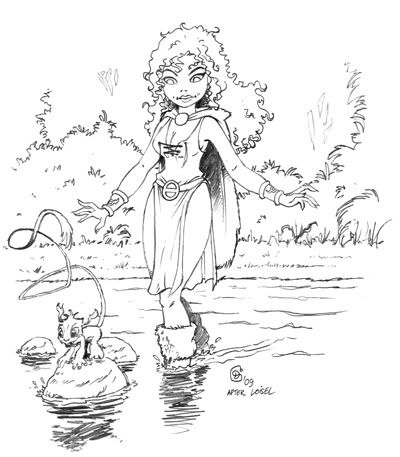 "The quest of the Time-Bird"
by Loisel and Le Tendre is a French comics from the 80's I love dearly. In the mid-80's, I participate to a comics book contest in France (I think it was for the Angoulême Comics Book convention). I won a prize: the third album of the series. Before having this album I didn't knew the series, and had no special interest. And I didn't wanted to start my reading in the midlle of the action, so I bought the previous 2 albums and discovered Fantasy. Prior to this reading, I was essentially reading some kid stuff. So, it was a big step in my reading progress. The 2 characters you have here are Pélisse and her "pet", le Fourreux. This is my version of those characters.

"La quête de l'oiseau du temps"
de Loisel et Le Tendre est un classique de la BD des années 80 que j'affectionne particulièrement. Dans le milieu des années 80, j'ai participé à un concours de BD ( si je me rappelle bien, c'était un concours organisé par la Caisse d'épargne pour le salon de la BD d'Angoulême ).
Mon prix: le troisième album de la série. Avant de le recevoir, je ne connaissait rien de cet univers, et n'avait pas spécialement d'intérêt: mes lectures de l'époque étaient des hebdomadaires pour la jeunesse. Comme je ne voulais pas commencer ma lecture en plein milieu de l'action, j'ai acheté les 2 albums précédents. Et j'ai reçu une claque dans la tête en découvrant un nouveau genre de lecture: la fantaisie héroique! Ce fût un grand pas en avant dans mon choix de lectures. Les 2 personnages que vous avez là sont Pélisse et son fourreux. C'est ma version.