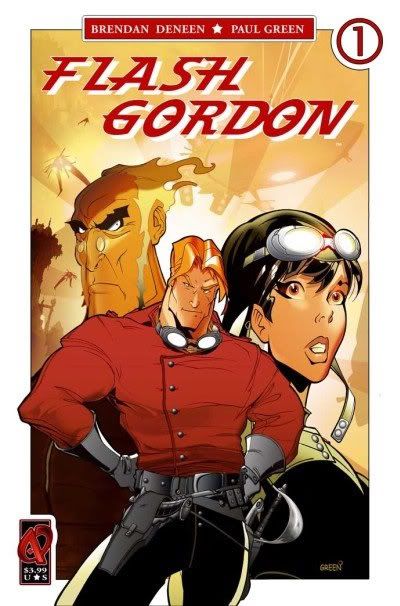 What
is that mysterious title ? Flash Gordon and simple mathematics? No. The rule of 3 is something I read some times ago on another blog. It's quite simple: I buy a new comics for its first 3 issues. If I like it, I continue to buy the following issues. If I don't like it, I stop after the third issue. Well, as you have well guessed, "Flash Gordon" goes in the later category. I wanted so much this title to be good. I am related to the characters of the series quite a lot. First, there were the re-runs of Alex Raymond run in the pages of " Journal de Mickey " in France when I was a kid. But more importantly for me, I started my working life doing some lettering on the French version omnibus for Soleil publishing. When I read that there was a new series of comics, I was very happy: the characters were back in the limelights!
Unfortunately, the artists messed up all my hopes. The writer is heavy handed on some dialogues who are useless, making it absolutely boring to read. As for the artist. I don't know, maybe he has a daily job and can only do that in the week-end. The style is consistent. The costumes, the designs are nice BUT ( and it is a huge BUT ! ) he is extremely lazy... to a level that few people have equalled up to now! So, the book is not late on publishing schedules but this is just plain crap ! He just do one character nicely and copy it, flop it, just changing an eyebow or the mouth! I am sadly not kidding! So, as sad as it is, I don't want to spend my money on "Flash Gordon" anymore. Time to look for some old stuff then.
And you may not like it but if you scroll down this post, I have sketch MY version of the characters. Some time ago, I was considering to do some daily strips for the fun and I started to do some researches. This is the result !
Final note, that little daily thing about me:
#7: I can dress up with a different Superman related T-shirt every week day. I have that many !

Qu'est-ce que
c'est que ce titre mystérieux ? Flash Gordon contre les mathématiques ? No. La règle de 3 est une règle à suivre quand on achète des comics. Je l'ai lu sur un autre blog il y a quelques temps. C'est très simple : si j'achète un comics américain d'une nouvelle série, je prend les 3 premiers examplaires. Si, j'aime, je continue, Si j'aime pas… pas la peine d'insister. Donc, comme vous l'aurez probablement compris, « Flash Gordon » fait malheureusement parti de la seconde catégorie. Et je voulais tellement que cette nouvelle série marche et soit intéressante à lire. Je suis relativement proche de ces personnages. D'abord, il y a eu la publication dans « le journal de Mickey » des pages de Alex Raymond quand j'étais gamin. Mais le plus important, c'est que j'ai commencé ma carrière professionnelle en faisant du lettrage sur les intégrales de « Flash Gordon » publiés chez Soleil dans les années 90. Donc, quand j'ai appris qu'il y allait avoir une nouvelle série de comics… J'étais content : les personnages allaient être de nouveau devant les projecteurs !
Malheureusement, les artistes attaché à la besogne ont complètement ruiné tous mes espoirs. Le scénariste a écrit des dialogues d'une lourdeur affligeante et sans grand intérêt. Quant au dessinateur, … je sais pas… peut-être il a un boulot dans la journée et ne peut faire ses planches que les week-ends. Le style est consistent. Les costumes, les designs sont bons MAIS ( et c'est vraiment un gros MAIS ! ) il est d'une paresse hallucinante ! … A un niveau encore rarement égalé jusqu'à maintenant! Donc, OK, le comics sort dans les temps, …mais c'est juste du foutage de geule du lecteur ! Il dessine un personnage dans une seule position intéressante et ensuite la copie/colle quasiment à chaque case en la retournant, agrandissant, la mettant en contre-jour, en changeant juste un sourcil, la direction du regard ou la bouche ! Tristement, je n'exagères en rien ! C'est une honte !
Donc, aussi triste que je suis, je ne vais pas gaspiller plus longtemps mon argent sur « Flash Gordon ».
Et peut-être que vous n'aimerez pas, au bas de ce billet, vous verrez MA version des personnages. Il y a quelques temps, j'ai considéré faire quelques strips pour le fun et j'ai commencé à faire des recherches. C'est le résultat !
Finalement, le petit truc du jour sur moi :#7 : Je peux m'habiller avec un T-shirt de Superman différent tous les jours de la semaine si je veux ! J'en ai autant que ça !