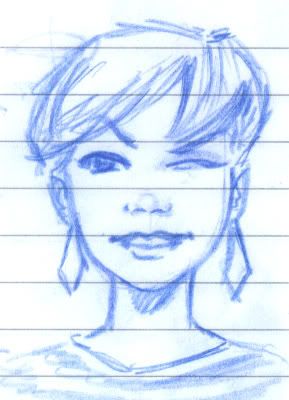 ... Double post today !
This is just a quick drawing I made during a meeting at work. It is not my fault if they started to all speak in Cantonese! This is a tiny drawing, you can see the thickness of the lines, this is from a writing pad. I would like to think that it has a little influence from a Comics Book Legend artist I like a lot, John Byrne. ... Yeah right, probably when he just wake up and before his coffee! Anyway, I like that drawing at the stage it is. I am not sure I can be able to do it justice if I ink it, so I prefer to not try!

... Double billet aujourd'hui !
( Z'êtes content, non ?! ). C'est juste un crobard rapide que j'ai fait pendant une réunion récemment ! Hé! C'est pas ma faute à moi s'ils se sont tous mis à parler en cantonais, me laissant dans une totale détresse! C'est un tout petit dessin, vous pouvez voir le grossissement des traits aussi bien du dessin que des lignes du blocknote sur lequel je l'ai fait. Personnellement, je trouve qu'il y a une petite influence d'une légende de la BD américaine que j'aime beaucoup: John Byrne. ... mouais, probablement le genre de truc qu'il dessine les yeux fermés, pas encore réveillé et avant son café ! Enfin! J'aime ce petit crobard comme il est. En fait, je suis pas sûr de pouvoir lui faire justice si je l'encre, alors je préfère ne pas essayer!