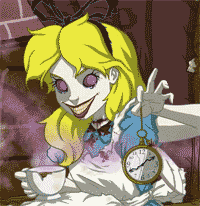 While
surfing on the web during lunchbreak, I found this website of a talented illustrator, Jeffrey Thomas. In one of his posts, there is a series of Disney Princesses in a way you have never seen them before. Please have a look:
Jeffrey Thomas
. You may or may not like those, but I think it is very well done, as it is able to show the darker side of each princess, while keeping the original artisitic direction. Hope you will not have nightmares...

En surfant sur le web, je suis tombé sur le blog d'un talentueux illustrateur, Jeffrey Thomas. Dans un de ses billets, il propose une série de portraits des princesses Disney comme vous ne les avez jamais vu. Allez faire un tour:
Jeffrey Thomas
. Vous aimerez ou pas, mais la qualité est là, surtout sur le fait qu'il arrive à montrer un côté noir de l'univers de chaque princesse, en respectant le style graphique. En espérant que ça ne vous donnera pas de cauchemars...