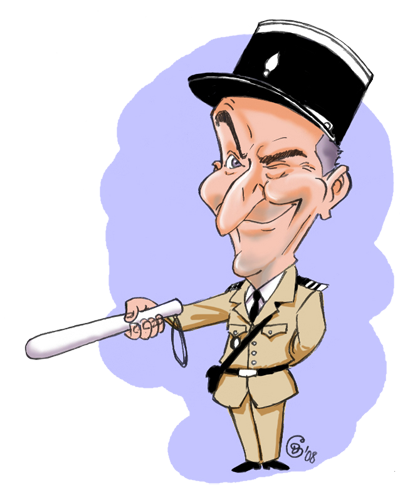 Aaaah
, almost back to normal. Missed me? Well, here is a caricature of one of my favorite French actors (yeah, I am into caricature stuff at the moment, trying to improve the likeness in my drawings). His name is Louis de Funès. He died many years ago. He was famous for his role in " the Gendarme of Saint-Tropez " series of films, among many many other films.
The drawing itself took a lot of time, as the face of de Funès is both very caricatural and difficult to catch. I made a lot of drawing before this one. I also went to look how some good artists did his caricature. And at the end, I am not even sure it looks OK. What do you think? If you don't know the actor, just google his name.
Aaaaah
, tout redevient normal petit à petit. Je vous ai manqué? Bon, toujours dans mon trip caricatures, j'ai décidé de m'attaquer à un sujet que je croyais facile: Louis de Funès. Et en fait, il est pas facile du tout du tout. Il y a quelque chose dans son visage très difficile à choper. C'est peut-être parce qu'il est déjà un peu caricatural à la base,... Tout ce que je sais, c'est que j'ai fait beaucoup de crobards pas jolis du tout avant d'arriver à ce résultat. Et je pense que j'ai encore énormément de progrès à faire. Qu'est-ce que vous en pensez ?