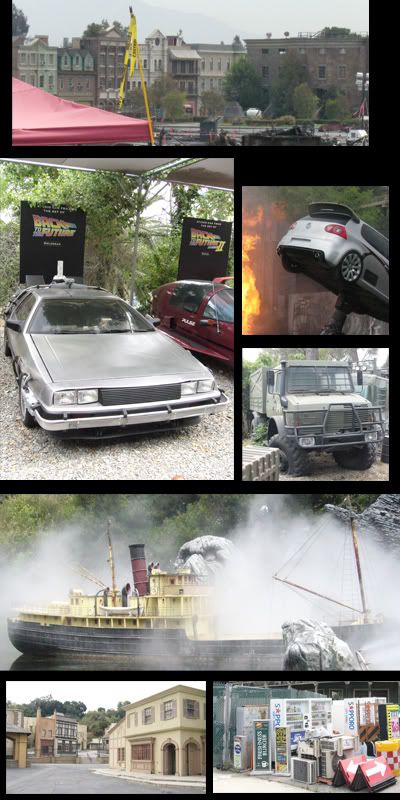 Finally
, the last day of the trip. Luckily enough, we were able to manage all the meetings on Thursday. As we had to leave the hotel in the morning, we decided to go to the Universal Studios Park... it was so close ! It was a lot of fun. I saw a lot of stuff. Doing a list will take too long, and you know it's just rides and attractions but to see the Hotel from " Psycho ", the De Lorean car from "Back to the Future", it was something.
Then, in the evening, we went to suburb Los Angeles to buy some stuff for the company. The taxi took forever to come and pick up us from there to the hotel, to the point I started to be worried that we would miss our plane. But all ended well and several hours after we were in the plane. because of the time difference, there was no Saturday for us. One more thing, no jetlag for me, both to go and return, which was a good news for me.
Enfin
, le dernier jour du périple. Avec suffisamment de chances, on avait réussi à conclure toutes les réunions le jeudi. Comme on devait libérer les chambres de l'hotel, on décida de passer du temps au parc des Studios Universal, juste à côté. C'était chouette. J'ai vu et fait tout un tas de choses dont la liste serait trop longue. Et puis vous savez, ce ne sont que des attractions. Mais voir l'hotel de "Psychose" ou la voiture De Lorean de "Retour vers le futur"... Génial !
Ensuite, dans la soirée, nous sommes allés dans la banlieue de Los Angeles pour acheter un ou deux trucs pour la companie. Le taxi pour le retour mit des polmbes à arriver, au point où je commençais à m'inquiéter qu'on louperait notre avion. Mais tout finit bien, et quelques heures plus tard nous étions en route pour Hong Kong. A cause du décalage horaire, le samedi a sauté. Dernière petite chose: pas de troubles de décalage horaire pour moi, aussi bien à l'aller qu'au retour, plutôt une bonne nouvelle.