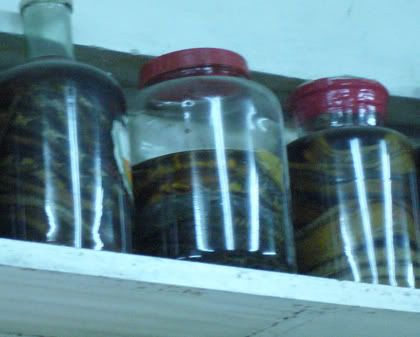 M
ore photos of the snake soup. So, at the entrance of the small Dai Pay dong snake restaurant, there were the snakes "du jour" in a cage. On some shelves, snakes in jars, probably for some medicine wine ( but I will have to ask, because I don't know! ). And then in one corner, there were some closed cages, with just few holes in the doors, for breathing. I have been said it was for the rats to be fed to the snakes. But I don't know if it is true.
And the last picture is my soup bowl.
Plus de photos par rapport à ma soupe de serpents ( à cause de toi, l'incrédule! ). Alors, à l'entrée du vieux resto boui-boui spécialisé dans les serpents, il y en avait plusieurs dans une cage. Ils étaient un peu endormis, ils ont pas bronché quand j'ai pris la photo.
Ensuite, sur des étagères, il y avait des bouteilles avec des serpents dans du jus ( alors au choix formol pour faire joli en déco, ou alors dans de l'alcool pour faire des boissons médicinales... je sais pas ... je demanderai! ). Et puis, dans un coin, plusieures cages fermées, avec juste quelques trous dans les portes ( pour pouvoir respirer ). On m'a dit que c'était pour les rats qu'ils donnent à manger au serpent. Mais je ne sais pas si c'est vrai.
Et la dernière image, c'est mon bol de soupe à moi.